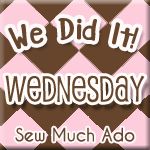 A very warm welcome to everyone out there! Hope you are all enjoying the sunshine :) This is the first time I have linked up to We Did It Wednesday over at Sew Much Ado but lets hope it will be the first of many!
I would like to share some
Extreme Crochet
with you!
What? I hear you ask.
Extreme crochet
is using multiple yarns with a huge hook.
Taking crochet to the extreme - so to speak!
Before I show you my latest creations I have listed links to my previous posts for those of you who are not already familiar with Fiddly Fingers.
I hope you like what you see - Look out for Chester!!!
And now you've all caught up, take a look at my newest creations!
I'd finished this basket one evening and was wondering how to photograph it!
The following day a trip to the supermarket was a necessity and being a bit peckish (never a good time to go shopping!) I bought some hot cross buns - two packets actually (buy 1 get 1 free offer!).It was soon after this I had one of those 'ping' moments! Hence the photo!
The basket is made using 20 strands of yarn and a 25mm hook.
If you click on the link below you will be able to see the size of the hook!
You may be asking yourselves why I am making these? Well as you will see from 'Chester the Extreme Crochet Cat' link. It's all my sister-in-law's fault!! I started with Chester, on a 12mm hook with 5 strands of yarn, then decided to try something a littler larger! These are my experiements for workshops I will be running in the near future. I need projects that can be completed within the day long workshop. So far I have made a really big flower and a 2 round granny square seat pad (see link 'Experimenting with Extreme Crochet' as well as the basket above and heart below. If you are interested in either workshops just (you guessed it!) click on the following links
and
Here is the latest addition to my experiments.
The photograph below shows the scale!
I thought this heart would make a lovely wall decoration and I even thought it would be handy to hang 'hooky' earrings on.
If you have any other ideas for me to create in extreme crochet please let me know and if I manage to make any I can put a link to your blog when I put up a picture.
Thank you for taking the time to read this post.
Enjoy the rest of the week.
Happy hooking!
X